XY Chart ActiveX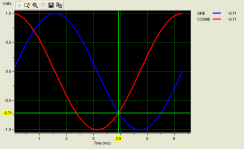 XY Chart ActiveX is an ActiveX chart component that integrates seamlessly into your VB applications.
ActiveX chart component
Very easy to use, saves time and money
Automatic built-in functions

Zoom, scroll and pan
Crosshairs and coordinates display
Crosshair profile values displayed in legend

Trending / data logging
Supports multiple languages with settable toolbar tooltips
Global number and date time formatting down to ms
Royalty-free distribution
XY Chart ActiveX provides engineers, scientists and developers with a powerful, easy-to-use VB chart that integrates seamlessly into your Visual Basic applications. Ready-to-use built-in functions including zoom, scroll, pan and crosshairs, allow users to analyze charts with ease and precision. A VB Chart ideally suited for applications such as motion control, process monitoring, trending and analysis, industrial automation and general application development.