Legend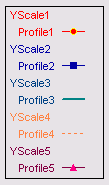 The display and format of the legend is user controlled through its Legend property setting, or via its Legend fields in the General Property Page.
The legend displays useful information such as:
which Profile is plotted against which Y-axis scale

configured label for each Profile (labels - Profile1, Profile2, Profile3, Profile4, and Profile5 - are used in the figure above)

configured line type and marker for each Profile

Y-axis scale labels (YScale1, YScale2, YScale3, YScale4, and YScale5 are used in the figure above)

the profile labels are displayed in the same color as its y-axis scale

Y-axis scale colors
<![if !supportEmptyParas]> <![endif]>
NOTE: If a Y-axis scale label is empty, it will not be displayed in the legend.