SERVOsoft News
SERVOsoft® Control Techniques Version Released
Dec. 17, 2013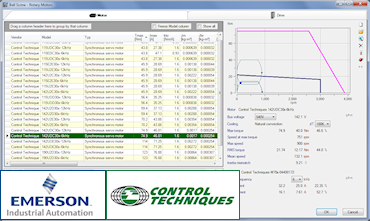 SERVOsoft® Control Techniques version is released with the latest Emerson Industrial Automation products, including rotary motors, drives, and bleeder modules.
About Control Techniques
Emerson Industrial Automation (www.EmersonIndustrial.com), a business of Emerson, provides automation and power generation technologies and services to a wide range of industries. With its global capabilities and deep industry expertise, Emerson Industrial Automation is a trusted partner for products and solutions that increase machine performance, efficiency, reliability, and availability.
The Control Techniques brand products in SERVOsoft Database
Emerson Industrial Automation has published 515 rotary motors, 73 drives and 77 bleeders in the SERVOsoft v3 database. You can find more information about Control Techniques brand products at www.controltechniques.com
Using 'Tools > Update Database', SERVOsoft® v3 users can get the latest database update with Control Techniques brand products.
The SERVOsoft database continues to grow with frequent updates, and now contains over 85,000+ products! Click here for a summary of the current products in the database.
If you are a vendor and want to add your products to the SERVOsoft database and/or are interested in a Vendor Promotion Version, please contact us.