SERVOsoft News
Manufacturer Users can upgrade to ADVANCED for 50% Off!
Sep 1, 2023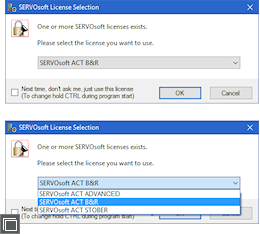 For a limited time, SERVOsoft Manufacturer users can upgrade to the ACT365 ADVANCED version for only $249.50 USD, which is 50% off the 1st year regular price of $499 USD.
ADVANCED Renewals are $249.50 USD/yr, 2nd year onwards.
Offer available until Dec 31, 2023, to all qualified manufacturer versions users that have had a manufacturer version license for at least 3 months.
Rest assured, you still keep your Manufacturer version license. After your new ADVANCED license is activated, when SERVOsoft starts, you will be prompted to choose the version you want to use. And you can set a default version to run automatically.
Click on the image to the right to view the full size image.
SERVOsoft Manufacturer versions include:
ATLANTA
B&R
BAUMUELLER
BONFIGILIOLI
CONTROL TECHNIQUES
EXLAR

GUDEL
HARMONIC DRIVE
MOOG
PARKER
STOBER
To check if you qualify, Complete and Submit this Form.